Miste di Bruschette
Bruschette are one of the favorites for antipasti in Italy. You can create all kinds of varieties, but I like to keep them simple. Of course the original bruschetta al pomodoro is a must and the combination of bufala and anchovies is just heavenly! Though, if you're not such a fan of anchovies, still add the bufala and finish with some olive oil, parsley or basil.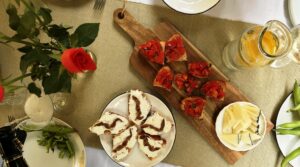 Misto di Bruschette – con pomodori
Ingredients (for around 10 bruschette)
White or whole-grain bread (uncut)
Olive oil
Roma or cherry tomatoes (500 grams)
Branch of fresh basil
A tbsp dried oregano
Salt
1 garlic clove
Bruschette con stracciatella di bufala e alici
(with creamy bufala mozzarella and anchovies, around 10 bruschette)
Ingredients
White or whole-grain bread (uncut)
300 grams stracciatella di bufala (or if you can't find that, 2 burrata's cut/smashed)
10/12 anchovies in olive oil
*Optional
Freshly chopped parsley for on top
Preparation
For both recipes preheat the oven on 200 degrees or grill the bread in a grill pan, as you prefer.
Then wash and drain the tomatoes. Cut them in half and the halves again in halves or even smaller. Then take a bowl, add a good layer of olive oil, a smashed garlic and some salt. Chop or break the fresh basil leaves and add to the bowl together with the oregano. Add the tomatoes and a pinch of salt to your taste. Mix everything well.
Then for the bruschette, cut thick slices of the bread and cut the slices in half. Cover them with a drizzle of olive oil. On a baking tray leave them in the oven for about 6/8 minutes until browned. Preferably turn them around halfway through, so they're browned evenly.
Serving
Let the bread cool down just a little before serving, like 2 minutes. Then take some nice plates, cover them with your pomodori mixture and some extra olive oil on top.
For the ones with stracciatella di bufala, take a slice of bread, spread a thick layer of bufala on top and finish with an anchovy. After you can finish with some chopped prasley on top.