Special Caesar salad

A Caesar salad with a special twist
Prepare time:20 min
Cook: 10 min
Ready in: 30 min
Servings: 4 people
Ingredients
For the Dressing
2 egg yolks (preferably organic)
Juice of 1 lemon
1 tbsp mustard
4 anchovies
50 ml olive oil
50 ml vegetable oil
Pinch of salt (taste)
For the Croutons
4 slices of bread (multigrain/whole-grain)
1 garlic clove
Drizzle of olive oil
1 tbsp dried oregano
Pinch of salt
For the Crispy shredded chicken
Knob of butter
300/350 grams of chicken filet
Pinch of salt
1 garlic clove
Juice of half a lemon
For serving
2 x Romaine lettuce big or 4x small
25 grams of parmesan cheese
Extra anchovies for on top
Extra virgin olive oil
*Extra's : Grill-pan/electric Grill 
Preparation for the Caesar dressing
For the dressing I would suggest you to use a normal/electric whisk or a blender. Start with dividing the yolks from the whites. Then use a container in which you will blend/mix your ingredients. Add the yolks, juice of one lemon and the mustard. if you're using a whisk, chop the anchovies before adding them, so it will be mixed better. Then make sure both oils are easily reachable to pour in while you're mixing. Now add the anchovies and start whisking the first ingredients. When all is mixed, keep whisking and slowly start adding the oils, very slowly. After 3/4 minutes you will see the sauce thicken up like a mayonnaise. Taste and add a pinch of salt if needed. Now leave the dressing in a sauce bottle in the fridge, until serving.
For the Croutons
Preheat the oven on 180 degrees. Then cut the bread in slices a thickness of 2 cm more or less. From these slices cut little cubes and leave them in a baking tray. Peel and smash a garlic clove, add olive oil, the oregano and a pinch of salt. Mix everything with your hands. Then leave the bread in the oven between 8/10 minutes until they're crispy.
For the Crispy Shredded chicken
Take a sauté pan, bring on the heat and add a knob of butter. When melted add a peeled and smashed garlic clove. Then add salt on the chicken and put them in the pan to sauté  until browned and cooked (after 10 minutes more or less, depending on the thickness of your chicken). When the chicken is ready, turn of the heat and leave the pan on the side. Take the chicken, use a cutting board and a fork to pull the meat of the chicken, until you have thin shredded slices. Then turn on the heat again and add the shredded chicken. If needed add another knob of butter. Then leave the chicken for another 5 minutes, until crispy.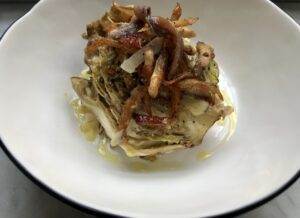 Serving
Wash and dry the Romaine lettuce, then cut them in half. Take an electric grill or a grill pan. When the grill is hot leave the Romaine lettuce on the grill with the flat side down. After 3-5 minutes the Romaine will be grilled, when grilled leave them on the side. Now shave some parmesan, using a peeler and leave on the side for plating.
Make sure you have all ingredients ready. Take a nice plate, then start with a Grilled Romaine on the bottom , add some dressing on top, then use your hands to crunch some crumbles of croutons on top. On top of that add the chicken, parmesan and more croutons if you like. Finish with some black pepper and a drizzle of olive oil.
This Caesar salad is perfect as a lunch or appetizer.
Enjoy!