Vegetarian Chickpea Curry
Super tasty Vegetarian curry full of veggies and spices 
Prepare time: 15 min
Cook: 30 min
Ready in: 45 min
Servings: 4 people
Ingredients
250 grams Basmati rice
400 grams tomatoes
7 grams ginger (peeled)
2 cloves of garlic
4 spring onions (white and green parts separated)
1 spicy chilli pepper
480 grams chickpeas (drained)
Vegetable oil
16 grams garam masala curry powder
1 tsp turmeric powder
2 tsp salt
Juice of 1 lime + 2 extra limes for serving
150 grams of spinach (washed)
200 grams coconut milk
150 grams water
40 grams of coriander (freshly chopped)
20 grams of butter
Preparation
Take a pot in which you will cook the rice, add almost double amount of water (around 400 ml) and bring to boil with a lid on top, until all water is dissolved. Then wash the tomatoes and cut in little cubes, leave on the side. Peel both the ginger and garlic and grate or chop very finely. Wash the spring onions and chop the white parts for inside the curry, leave the green parts for serving on top of the curry. Then remove the seeds of the chilli and chop into small pieces. Drain the chickpeas and leave on the side.
Time to start cooking this delicious vegetarian curry. Take a big pan or pot, in which you can add all the ingredients. Start with heating up some vegetable oil. Then add the white parts of the spring onions, chilli pepper, garlic and ginger. Sauté for a couple of minutes, then add the chickpeas and tomatoes, stir with the rest of the ingredients. After add the garam masala curry, turmeric, salt and juice of 1 lime, stir all and leave simmer for 5 minutes. Now add the spinach, coconut milk and water. Stir everything simmering with a lid for at least 30 minutes, so all flavours can combine well. If you have more time I would suggest you to leave the curry for one hour.
Meanwhile the curry is cooking, chop the green parts of the spring onions and the coriander. Leave on the side for serving. Just before serving take of the lid and add the butter, leave simmering for another 5 minutes, until you see the curry gets more creamy and concentrated.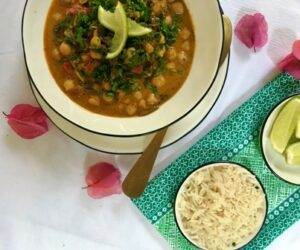 Serving
When the curry is ready, check on salt and add half of the coriander. I like to serve this delicious chickpea curry with the  rice in a separate bowl next to the plate of curry, but you can also decide to make a plate with rice and curry together. Finish with the green spring onions, extra coriander and lime.
Enjoy!