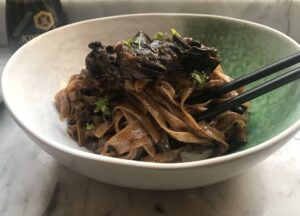 Black bean and Eggplant noodles
Prepare time: 10 min
Cook: 30 min
Ready in: 30 min
Servings: 2 people

Ingredients
2 eggplants (preferably the long thin ones)
Vegetable oil
2 garlic cloves
Piece of fresh ginger as big as the tip of your thumb
1 tsp of sesame oil
1,5 tbsp fermented black beans (from Chinese supermarket)
1 tsp fermented black bean pasta (from Chinese supermarket)
100 ml water
1 tbsp of soy sauce
200 grams rice noodles
Branch of fresh coriander
Preparation
Take the eggplants, wash and dry them. Cut them in half and then long cubes. Bring a pan on the heat, add a good layer of vegetable oil and pan fry the eggplant on medium heat. For about 10 minutes. Meanwhile peel and chop both the garlic en ginger in small pieces. Then add the garlic and ginger to the soft eggplants. After 2 minutes, add the sesame oil, fermented black beans, black bean paste, 100 ml water and the soy sauce. Stir all the ingredients and leave simmering for another 10 minutes, with a lid on top.
Now it's time to soak the noodles. I prefer soaking them, so they won't get to soft. Boil some water, leave the noodles in a tray or big bowl. Then when the water is boiling, poor it over the noodles and leave them soak for around 5 minutes. Taste them, if they're soft with still a little bite. Meanwhile  Cut the coriander leaves finely and put on the side for serving.
Now take the noodles and add them to the smooth eggplant mixture. Cook them for another couple of minutes in the sauce, so they're covered in the juices and flavours of the eggplants and black beans.
Serving
Take a big bowl or plate, add some noodles covered in eggplant, followed by freshly chopped coriander and a drizzle of soy sauce.
Enjoy!