Risotto ai Carciofi (risotto with artichokes)

Prepare time: 20 min
Cook: 25 min
Ready in: 45 min
Servings: 4 people
Ingredients
For the sautéed Artichokes
4 Artichokes
2 lemons
2 garlic cloves
100 ml white wine
Salt
Branch of fresh parsley
For the risotto
Olive oil
2 shallots
1 garlic cloves
320 grams risotto rice (preferably Carnaroli)
200 ml white wine
1 litre vegetable stock
50 grams butter
50 grams parmesan cheese
Zest of 1 lemon
Fresh parsley (finely chopped)
Cleaning the artichokes
Take a big bowl and fill it with cold water. Cut the lemons in half and squeeze the juice inside the water. Leave the rest of the lemons inside the bowl. Now rinse the artichokes under cold water. Then cut of the lower (hard) stem part and cut of the top of the artichokes. Get rid of the outside leaves, that are to hard.
Now with a small knife clean the outside skin of the stem. Meanwhile cleaning, leave them in the lemon water in between, so they will keep their colour. Now cut the stem in smaller pieces. Cut the artichokes in half, remove the hairs in the middle carefully, with a small knife. Then cut the artochokes in thin slices.
Sauté the artichokes
Now heat up a pan on medium heat, add a drizzle of olive oil, peeled and smashed garlic cloves and a few stems of the parsley. After a few minutes, when the oil is aromatized, add the artichokes. After 5 minutes, add the white wine and a pinch of salt. Leave simmering for another 15 minutes, until the artichokes are soft and tasty.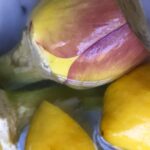 Risotto
Prepare one litre of vegetable stock and leave on low heat. Then cut the shallots and garlic finely. Put a pot on medium heat with a drizzle of olive oil, add the shallots and the garlic. After a couple of minutes, add the rice and stir this until glazy. Now add the white wine, stir and let it evaporate. Add two big spoons of artichokes, that will make the rice extra flavoured, while cooking. Then cover all the rice with vegetable stock and repeat this every time the water is evaporated. In between stir. This process will take you for about 18/20 minutes, depending on the type of rice you cook. When the rice is soft, the stock is as good as finished and the rice has still a tiny bite inside, it's time to turn of the heat. Add the parmesan, the butter and more artichokes stir and leave some artichokes for serving on top.
Serving
Serve the risotto on a nice plate, of course extra sautéed artichokes on top, some chopped parsley, followed by more parmesan cheese. A perfect healthy and delicious vegetarian recipe.