Penne al Pesto Rosso (pasta salad)
Prepare time: 15 min
Cook: 10 min
Ready in: 25 min
Servings:  4 people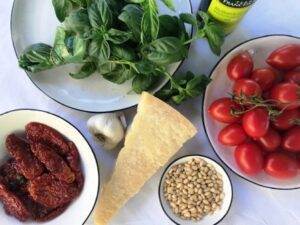 Ingredients
For Pesto Rosso
200 grams sundried tomatoes
½ garlic cloves
50 grams pine nuts (roasted)
50 grams parmesan cheese
40 grams olive oil
25 grams of fresh basil + 10 grams extra for serving
Zest of one lemon
Salt
Black pepper
For the pasta and serving
400 grams penne (preferably short ones)
Salt
250 grams of tomatoes (preferably small, Cherry/Roma)
80 grams of arugula
One ladle of pasta water
Extra parmesan cheese for serving
Olive oil
*Optional
2 tbsp of Olive Taggiasche
Preparation
Bring a pot with water to boil for the pasta. Meanwhile start with the Pesto Rosso. Take a pan and roast the pine nuts, for about 3/4 minutes until they are browned (don't use any oil). Then take a container in which you can blend all the ingredients for the Pesto Rosso. Use a blender to mix all the ingredients into a paste. Start with the sundried tomatoes, then add the garlic,  around 40 grams of the roasted pine nuts (leave the rest for serving), 50 grams of parmesan cheese, olive oil, fresh basil, lemon zest and a pinch of salt/ pepper. Blend the mixture until smooth and taste if it needs some extra salt or an extra drizzle of olive oil. Just remember that by adding the pasta water later on, the mixture will be more liquid as well.
When the pasta water is boiling add some salt to the water. Wait until it's boiling again and then add the penne. Cook them for around 9/10 minutes until al dente. Meanwhile the pasta is cooking, wash the tomatoes and cut them into small cubes. After grate the parmesan cheese for serving.
When the pasta is ready, drain and leave some pasta water on the side. Take a big bowl in which you can combine the pasta with the other ingredients. Start with adding the pesto rosso and a bit of pasta water, check the consistency and if needed add more liquid. Then add the tomatoes and extra pine nuts.
Serving
This recipe is perfect for a picnic or summer lunch/dinner. Take a big bowl or plate for on the table. Cover the bottom with arugula, then add the pasta salad, cover with grated parmesan cheese and an extra drizzle of olive oil.
Buon Appetito!